The cost of replacing a furnace inducer motor ranges from $400 to $1,100 on average. The part alone for a furnace inducer motor assembly costs $100 to $500. The work alone to replace a draft inducer costs $300 to $600.
Cost factors for furnace inducer motors
The price of a furnace inducer motor replacement is determined by the furnace manufacturer, accessibility, warranty, and location.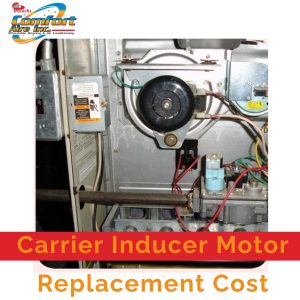 Other cost considerations include:
Original equipment manufacturer (OEM) and premium brand parts are often more expensive than generic parts.

ECM motors are more expensive than PSC motors, but they run quieter and more efficiently.

Pressure switch – The part alone for a new air pressure switch costs $15 to $80. When old motors fail, this switch connects to the inducer motor and frequently fails.

Furnace type and size — Larger furnaces with high-voltage require more expensive inducer motor assemblies.

High-efficiency devices with two-stage or modulating motors allow for changeable heat settings, although they are more expensive than single-stage blower motors.

Labor — For difficult-to-reach furnace locations and emergency calls, rates go more.

Hourly rates are often greater in major cities than in rural areas.

Season – Due to high demand, service and repair expenses rise during the coldest months of the year.

Professional vs. DIY inducer motor replacement – DIY inducer motor replacement saves $300 to $600 in labor expenditures, but it usually voids warranties.

Most furnace warranties cover parts for 5 to 10 years but do not cover labor.
Cost of labor to replace a furnace inducer motor
Depending on local labor rates, service fees, and task complexity, replacing a furnace inducer motor costs $300 to $600 on average.
On average, furnace repair contractors charge $75 to $150 per hour.

The first hour of labor is usually included in the minimum service price of $75 to $200.

Weekend, holiday, and after-hours emergency

HVAC service

is $140 to $210 per hour.
The cost of assembling a draft furnace inducer motor varies by brand.
Depending on the model and part availability, a furnace draft-inducer motor replacement can cost anywhere from $400 to $1,100. On average, a new inducer motor assembly costs between $70 and $300, with original manufacturer parts costing up to $600. (OEM).
The cost of replacing a carrier inducer motor
Depending on the type, a Carrier inducer motor replacement costs $400 to $1,200. Prices for Carrier furnace inducer motors range from $125 to $600 on average. Carrier parts are usually more expensive due to their brand awareness and high quality.
Cost of a new Trane inducer motor
Depending on the furnace type, replacing a Trane inducer motor costs $400 to $1,250 in parts and labor. Trane creates, manufactures, and tests its own components, which are often more expensive in the higher price range.
The cost of replacing a Bryant inducer motor
Depending on the model, replacing a Bryant furnace inducer motor costs between $450 and $1,050. The Bryant line of furnaces is part of the Carrier line, and most parts are interchangeable. Bryant is a less expensive variant of Carrier, hence its parts are less expensive.
The cost of a Heil inducer motor replacement
Depending on the furnace, a Heil draft inducer motor replacement costs $400 to $1,100. In the Carrier brand family of furnaces, Heil is a cost-effective option. Heil parts, on the other hand, are not compatible with Carrier or Bryant.
Symptoms of a faulty inducer motor
The following are symptoms of a bad inducer motor:
Shortly after the heating cycle starts, you may hear rattling or vibrating noises.

Strange noises from the furnace, such as hissing, a loud hum, or shrieking

Furnace starts and then abruptly stops.

The furnace isn't working and isn't responding.

An error code signal is indicated via blinking LED lights.
Furnace servicing near me such as inspections normally costs $70 to $130 and covers any repairs made.
What causes the failure of a furnace draft inducer motor?
The following are some of the most common causes of furnace draft inducer motor failure:
Pressure switch failure

Blockage of a filter or a vent

Motor wheel that is loose, rusted, or imbalanced

The capacitor isn't producing any electricity, and it's getting old.

Overheating

Internal bearings that have worn out

Fan blades that are broken or are missing parts
What is the purpose of a furnace inducer motor?
The preceding heating cycle's hazardous gasses are removed by a furnace inducer motor. The blower fan attached to the burners starts 30 to 60 seconds before they ignite and drives any residual gasses out the vent pipe. Until the heating cycle is over, the motorized fan maintains a steady oxygen supply to the burners.
A furnace inducer motor is also known as a "draft inducer blower assembly."
When it comes to furnace inducer motors, how long do they last?
On average, a furnace inducer motor lasts 10 to 20 years. The best approach to extend the life of the furnace inducer is to perform annual maintenance.
What is the average time it takes to replace a furnace inducer motor?
It takes 30 to 60 minutes to replace a furnace inducer motor, depending on examination time, accessibility, and wiring needs. Most HVAC technicians charge a flat rate regardless of the amount of time they spend on the job, which includes up to one hour of labor.
Is furnace inducer replacement covered by homeowners insurance or a home warranty?
The motor is only covered by homeowners insurance if the damage was caused by natural catastrophes, accidents, or theft.
Using the services of a furnace repair company
Before you hire a local furnace repair provider, consider the following:
Compare at least three in-person estimates.

Check to see if the HVAC contractor has a state-issued license that includes gas-piping qualifications.

Check for NATE (North American Technician Excellence) Excellence in HVAC and ASHRAE (American Society of Heating, Refrigeration, and Air-Conditioning Engineers) certifications (ASHRAE) Other HVAC training programs in the area

Take a look at their HomeGuide and Google reviews.

Look for companies that have been in business for at least 5 years and are certified, insured, and bonded.

Before any work begins, get a formal estimate, contract, and warranty.

Avoid organizations who provide the cheapest quotes because the quality may be compromised.

Don't pay in full right away. Maintain a payment schedule and keep track of receipts.
Questions to ponder
Could you provide me with a list of references?

Is it possible to get a free estimate from you?

How long will it take to complete the task?

Do you utilize parts from the original equipment manufacturer or generic parts?

Why did my inducer motor fail, and how can I avoid motor difficulties in the future?

Is the motor's lifespan affected by the temperature setting?

How often should I change the air filter in my furnace?

Is it necessary to replace both the pressure switch and the motor?

Is there anything else about my gas furnace that could be dangerous?

What is the greatest strategy to increase the quality of my indoor air?

Is there anything you can suggest to help my furnace run more efficiently and last longer?

Do you have a maintenance plan for your HVAC system? If so, what exactly does it entail?

Is your work or any of the parts covered by a warranty?

Will you offer a detailed written report on all repairs and maintenance?
Depending on the plan type, a home warranty may cover Furnace Inducer Replacement and other HVAC repairs due to normal wear and tear. If this article was helpful you can contact Comfort Aire Inc. at (219)306-2348 for more tips and assistance.