A variable speed motor is used in the high-end Carrier furnace model. It's the most expensive sort of blower motor for a furnace. The cost of replacing a Carrier furnace blower motor ranges from $500 to $1200. However, if your machine is covered by a guarantee, the labor might be as low as $150.
The parts of a Carrier furnace are covered for ten years from the date of installation. The Carrier guarantee should cover you if your furnace is less than 10 years old.
Have all of the documentation in front of you before calling for service to check your furnace warranty. The Carrier serial number may also be useful.
What is a Blower Motor for a Furnace?
A furnace blower motor transports warm air from your furnace system through ducts into your home. Your furnace will not be able to blow hot air if the blower motor fails. It's possible that your furnace will start up and then shut down, or it may not turn on at all. It's usually a sign that you need an AC fan motor replacement or repair.
The motor could fail for a variety of causes. Dust, grime, and debris can cause the motor to overheat. Furnace blower motor problems might also be caused by a defective capacitor or an old motor.
Blower motors for furnaces are a little more difficult to replace. The replacement would necessitate a significant amount of labor. It's essential to contact an HVAC professional if you're having problems with your Carrier blower motor.
If you're doing it yourself, the most difficult part will be removing the blower assembly. This is due to the fact that some have the control board and other components in front of them.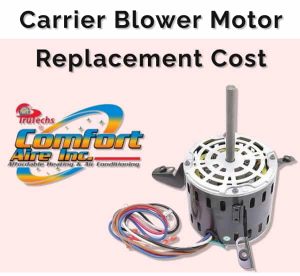 Carrier Furnace Blower Motor Replacement Cost
An ac blower motor replacement costs $450 on average, according to HomeAdvisor. A homeowner might spend up to $2,000 on a high-end model.
A single-speed blower motor costs roughly $450 to replace, whereas a variable-speed motor costs between $800 and $1,000.
Locate the Correct Replacement Part
It's critical to have the right blower motor replacement because this is what determines how powerful your furnace is. Your Carrier furnace won't be able to force hot air throughout your home if it doesn't have the correct type of engine.
You must carefully assess the sort of furnace blower motor you require. You simply cannot maintain the proper temperature in your home without the proper motor.
The majority of Carrier blower motors are manufactured by GE. You could substitute a low-cost generic brand, but I would not recommend it. OEM parts are usually preferable.
Hopefully, you'll be more prepared when it's time to repair the Carrier furnace blower motor. It's always a good idea to know when your furnace needs to be repaired or replaced. 
When the cost of Carrier Blower Motor Replacement reaches $2000, it's a good idea to think about everything. If you don't want to risk having a replacement, call Comfort Aire Inc. at (219)306-2348 for other assistance.